Research
Everything we do has one purpose: building strong connections between the university and the community for the health and wellbeing of children. We do this by bringing children, families, frontline workers, clinicians, and university researchers and graduate students together to bridge research and practice in early child development.
The Mary J. Wright Child and Youth Development Clinic serves as a bridge between a team of researchers from Education, Social Science and Health Sciences and the community members who can benefit most from their work across three signature areas of research. The interdisciplinary research at the Mary J. Wright Child and Youth Development Clinic focuses on the following areas:

Environment effects on brain development – toxic stress
Early adversity and traumatic experiences are investigated to see how they affect the brain development in children.

Cognition, language, literacy and numeracy
The mental processes that support children's learning are examined to determine how language, reading and math skills are developed.

Social, emotional and behavioral resilience and well-being
The patterns and causes of social, emotional and behavioral challenges in preschool children are studied and interventions are created that support the well-being of those children and their families
Featured Research
Led by Dr. Karen Bax and Dr. Claire Cooks, Making Mindfulness Matter - Creating a Culture of Resiliency in the Family.
Western University's Mary J. Wright research and Education Centre has been working in Collaboration with Merrymount Children's Centre to create and implement the M3 Program.
M3 is a concurrent parent and child program that supports parents by offering a new approach to parenting in stressful situation and helps children Build skills to manage their emotions and behaviours and build caring relationship with those around.
Through exploring how our brain works under stress, M3 teaches how we can pay better attention o our feelings, thoughts and behaviours through mindful awareness which helps us make better decisions about how we respond. M3 also teaches positive ways to respond, like perspective taking, using thankfulness, kindness and positive thinking.
8 weeks long
Includes one 90 minute session per week
Facilitates concurrent groups with parents and children joining together at the end of each group to practice M3 skills together
Teaches mindful awareness and social emotional learning skills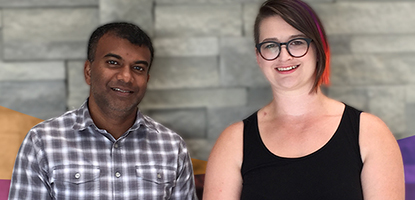 Led by Dr. Nicole Neil and Dr. Anton Puvirajah
The purpose of this pilot study is to determine the effects of group -video-modeling of social skills to an audience of children ages 10-13 with a diagnosis of autism spectrum disorder. The target social skills will be embedded within a STEM after-school program.
Study participation involves:
Parent/Caregiver

1.25 hour screening and pre- and post-assessment

Child

Attend 3 to 4 hour long session
The session will teach social skills that involve teamwork and cooperation using group video modeling
Practice social skills during STEM activities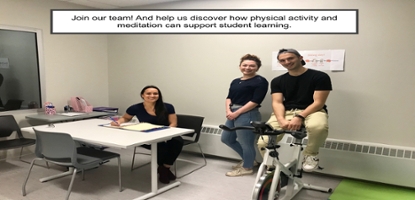 How Can Short Bursts of Physical Activity and Mindfulness Meditiation Improve Children's Attentional Focus?
Led by Dr. Barbara Fenesi
Our research aims to better understand how behavioural treatments (rather than drug therapy) can be used to help children with Attention Deficit Hyperactivity Disorder (ADHD) better focus their attention during classroom learning. We are looking to recruit children ages 10-14yrs of age who have been diagnosed with ADHD. Children will participate in a fun, short burst of stationary biking, as well as a 10-minute guided meditation exercise. They will also play a series of brain games and have their brain activity measured using our new brain imaging technology. This work will help us understand how we can get more physical activity and mindfulness meditation exercises into schools and classrooms to help better support student learning. Children and parents will be compensated $$ for their time. Please contact activeminds2019@gmail.com for more information!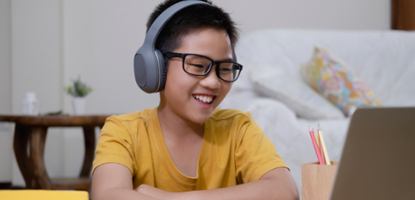 Reading, Comprehension Monitoring and ADHD
Led by Dr. Deanna Friesen
What Cognitive Strategies Do Children With ADHD Use While Reading? The Bilingual Reading Lab supervised by Dr. Deanna Friesen is looking for children with Attention Deficit Hyperactivity Disorder (ADHD) and their parents to participate in a reading comprehension study. Children must be between 10 and 14 years of age. Children would read a few reading passages and would complete a few short cognitive tasks. Parents would be asked to complete a background questionnaire (~ 5 minutes). The study is entirely online and will take approximately 1 hour and 15 minutes. To participate, you and your child must have internet access and must agree to have your child's responses audio-recorded. Your child would receive a $20 Indigo gift card for their participation. For more information about the study, please contact Olivia Ward at oward2@uwo.ca.